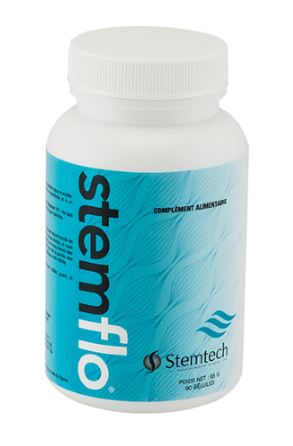 StemFlo® is the only supplement of its kind, all-natural and scientifically-tested for effectiveness. A cutting-edge blend of antioxidants and enzymes that support optimal circulation, StemFlo was specifically designed to support your inner potential circulation. The supplement also helps to naturally maintain your wellness.
Key Benefits
Supports the inner potential circulation†
Contains ingredients known for their antioxidant function which also reduces excess fibrin and helps to naturally maintain wellness
Supports healthy blood flow
Protects your heart by neutralizing free radical damage
Nourishes your blood vessels and supports their elasticity
Supports your body's inherent defense system
Boosts energy processes
Boosts vitality and contributes to healthy longevity
IMPROVES INNER POTENTIAL CIRCULATION
StemFlo supports the circulation of the inner potential. Its ingredients are known for their antioxidant function, which can also fight against fibrin. Fibrin, when it accumulates, can disrupt the proper functioning of the circulation.
According to Dr. Mira Gadzala, Stemtech's Senior V.P., Research & Development, "What is unique in the StemFlo formula is the blend of powerful antioxidant and botanical properties, designed to support the optimal circulation of inner potential. The result is that StemFlo optimizes wellness naturally."
StemFlo delivers triple-defense response to support your body's ability to naturally renew itself. Comprised of a propriety blend of all-natural herbs, nutrients and botanicals, StemFlo helps to support circulation by offering the following:
Oxidative Stress: Oxidative Stress: StemFlo contains powerful antioxidant ingredients. These ingredients are also known to reduce oxidative damage and fibrin production.†
Excess Fibrin: StemFlo contains proteolytic enzymes that aid in the digestion of fibrin. Reducing the excess fibrin that accumulates StemFlo helps to optimize the circulation of your inner potential. †
Detoxification: StemFlo contains ingredients which have been shown to assist in the elimination of toxins from the body.†

For more about stemflo visit the Product Facts.
A Perfect Partnership:


StemFlo®, se3 and Migrastem™

Stemflo is an important part of daily nutrition and works best when used in tandem with SE3® and MigraStem™.
These products are not intended to diagnose, treat, cure, or prevent any disease
Sign up for sales and PRODUCT NEWS!